KITCHEN SOAP DISPENSING PALM BRUSH
Dispense Your Favorite Soap With The Press Of A Button!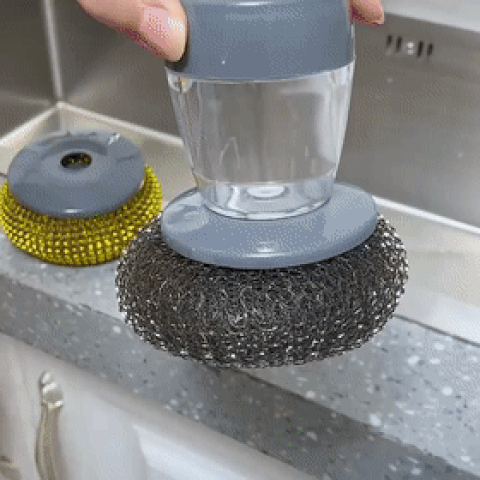 Bring great convenience to your kitchen cleaning with this Kitchen Soap Dispensing Palm Brush.
One of the ultimate dishwashing tools around. Simply press the pump to release the soap when you want it. Sturdy nylon bristles make scouring pots and scrubbing pans easier, and the soft cap cushions your hand while you scrub.
Easily fill the Kitchen Soap Dispensing Palm Brush with soap by unscrewing the cap. Safe for use on non-stick cookware.
Easy to clean and built to last a long time and dishwasher safe.
FEATURES
Heavy-duty Stainless Steel Sponges Scourer
Our scrubbers are rust-resistant, scrubs away stubborn stains, grease, and grime that built-up overtimes. Effortlessly cleaning kitchen appliances, dishes, pots/pans, Great for automobile, household equipment, commercial use, and more.
100% Premium Quality, No Mildew Smell, Anti-bacterial

Our scrubbers are designed to improve traditional sponges in any possible way. To be more clean and healthy, these scrubbers have no smell, safe, and resistant to bacteria.
Non-scratch Premium Nano Fiber Material Scrubber
Non-scratch and safe for cast iron, nonstick pans and pots, glassware, plastic Tupperware, and many more.
Built-in Liquid Storage Tank

Dispenses soap on demand with the light push of a button.
Practical Design

Contoured shape provides optimal comfort and scrubbing power
SPECIFICATIONS
Material: PET/STEEL
Product Size: 20 × 15 × 10 cm / 7.9 × 5.9 × 3.9 inches